Brand Name: 

PHILIPS

Origin: 

NL(Origin)

Capacity: 

260ml

Flow Velocity: 

Variable Flow

Model Number: 

Philips Avent New Born Set

Material: 

PP

Handle: 

Yes

Material Feature: 

BPA Free

Age Range: 

0-6m

Type: 

Baby Bottle

Shape: 

Large Baby Bottle

Mouth Size: 

Wide Mouth

Pattern Type: 

Solid

Bottle Features 1: 

BPA Free

Bottle Features 2: 

Polypropylene

Pacifier Features 1: 

Silicon

Pacifier Features 2: 

BPA free

4 oz Baby Bottles: 

2 pieces

9 oz Bottle: 

2 pieces

Brush: 

1 pieces

Pacifier 1: 

1 pieces

Pacifier 2: 

Unique comfort petals, Ultra soft

Bottle design 1: 

Ergonomic design

Bottle design 2: 

Wide mouth

Bottle use 1: 

Easy to hold

Bottle use 2: 

Easy to assemble

Bottle use 3: 

Easy to clean

Bottle nipple type: 

Unique comfort petals

Stage: 

0-12 months

Clutch 1: 

Natural absorption effect

Clutch 2: 

Easily combine breast and bottle

By: Save Mart Online
Philips Avent Newborn Natural starter set
SCD301/01
Can be easily combined with breastfeeding
Natural absorption effect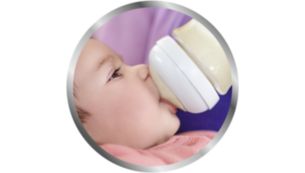 Natural sucking sensation thanks to the wide breast-like nipple
Resembling a mother's breast, the wide bottle teat creates a gripping effect like natural breastfeeding and helps you combine bottle feeding with breastfeeding.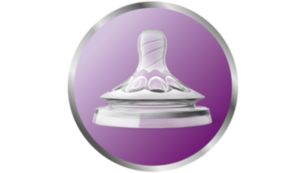 Ultra soft bottle nipple designed to mimic the feeling of a mother's breast
The bottle teat has an ultra-soft texture designed to mimic the feeling of a mother's breast.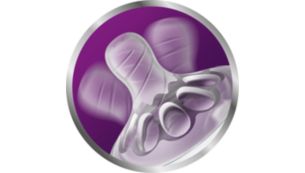 Flexible spiral design and comfort leaflets
The flexible spiral design combines with the leaflets that provide unmatched comfort to make the bottle teat flexible and prevent the teat from collapsing, making bottle feeding more natural.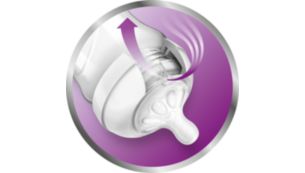 Anti-colic valve designed to reduce colic and discomfort
The anti-colic valve is designed to reduce colic and discomfort by preventing air from entering your baby's stomach.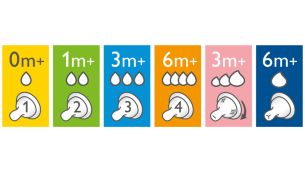 Bottle teats with different flow rates are available
The Philips Avent Natural range offers teats with different softness and flow rates for each development stage of your baby.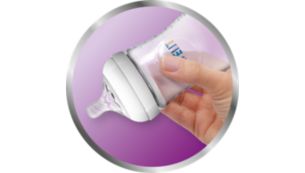 Ergonomic design for maximum comfort
This uniquely shaped bottle is easy to hold, grips on all sides and provides maximum comfort even for your baby's small hands.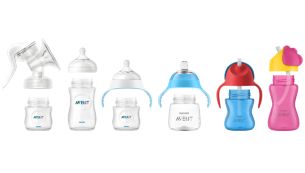 Compatible with Philips Avent Natural range
Match our breast pumps, bottles and cups together to create the product that will help you when you need it!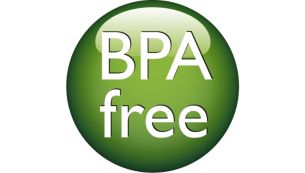 This bottle is BPA free *
Philips Avent Natural feeding bottle is made of BPA-free * material (polypropylene).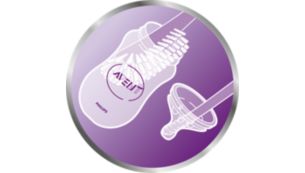 Easy to use and clean, fast and easy assembly
Thanks to its wide neck, the bottle can be filled and cleaned easily.Since it consists of only a few parts, it is very easy to disassemble and install.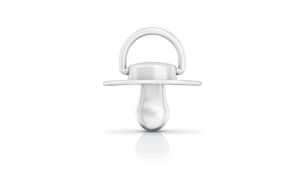 Orthodontic pacifier
The orthodontic and soft structure of the pacifier is designed in accordance with the natural development of the baby's palate, teeth and gums.All our pacifiers are made of silicone;It does not contain flavors and fragrances.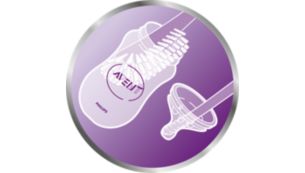 Bottle brush with curved brush head offers easy cleaning
Special curved brush head and molded handle tip reaches corners of all wide necked bottles, nipples and feeding items for perfect cleaning